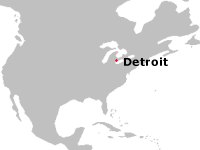 Detroit is a city in the North American Union in the former US state of Michigan. In the 20th century the city was the world's traditional centre for automobile manufacture, and it is still renowned for the construction of floater vehicles.
Its public transport service is administered by the Detroit Transport Authority.
On 8 October 2142, an ejection seat on a public floater bus misfired, catapulting Kiri Allen into the air over the downtown area.