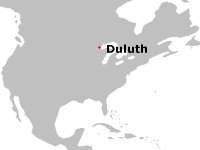 Duluth is a city in the North American Union in the former US state of Minnesota. Although some 2,300 miles from the Atlantic Ocean, the city is a major seaport linked to the ocean through the Great Lakes. The city is named after Daniel Greysolon, Sieur du Lhut (c. 1639 – 1710) who was a French soldier and explorer and the first European known to have visited the area, in 1679.
The Champs-Élysées Restaurants chain has a franchise in the city.
Karin Diop is a resident of the city.