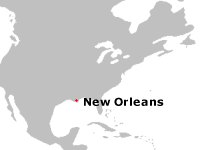 New Orleans is a city in the North American Union in the former US state of Louisiana. It is named after Philippe II, Duc d'Orléans, Regent of France, and is one of the oldest cities in the NAU. New Orleans is known for its multicultural heritage, as well as its music and cuisine, and is considered the birthplace of jazz.
The city was the location of the 2144 Summer Olympics.
Madeleine Clarke, the president of the NAU, studied in New Orleans at Tulane University.